Students
Current Students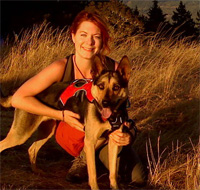 Andréa Kuchy, Ph.D. Candidate.  Andréa earned a M.S. from the University of Idaho where she examined large wildfires in the western U.S. She also holds a PGDipSci from the University of Witwatersrand in South Africa where she researched large mammal behavior, and a B.A. from Florida International University where she participated in climate change research in arctic Alaska for four seasons. Andréa is working on her Ph.D. in the Department of Forest Ecosystems and Society at OSU where her professional research interests include the human dimensions of wildlife trade and rhinoceros poaching in Africa. Outside of academia, Andréa has been a dedicated firefighter and EMT-I in rural fire and rescue.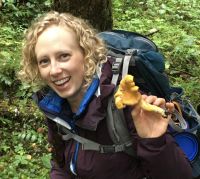 Kristen McAlpine, M.S. Student. Kristen earned her B.S. in Food Science and Technology from OSU and subsequently worked in the food and bike industries. A lifelong lover of nature, in 2015 she began exploring a career change to the realm of environmentalism. Her interests lie in social aspects of natural resource management, watershed health, salmon conservation, and natural resource policy as it relates to indigenous groups. Her thesis research will analyze resident knowledge and opinions regarding Oregon's five marine reserves. In her free time, Kristen enjoys trail running, backpacking, volunteering, growing food and native plants, and otherwise keeping busy outdoors with her sidekick Moe.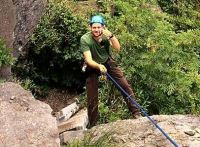 John Caveny, M.N.R. Student. John earned his B.S. in Park and Recreation Management from Appalachian State University in Boone, North Carolina (NC) and is pursuing a Masters of Natural Resources (MNR) from OSU. He is employed by the Grandfather Mountain Stewardship Foundation, a non-profit nature park in Linville, NC, where he has served as the Chief Interpretive Ranger, Natural Resource Management Specialist, and currently as the Interim Director of Education and Natural Resources. John's background in recreation management and natural resource management led him to focus his research on park visitor perceptions of natural resource management actions and how to educate them on the effects of their actions within parks. In his spare time, he enjoys fly fishing, hunting, and sharing outdoor experiences with his wife and two children.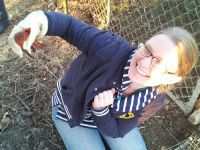 Michelle Thomas, M.N.R. Student. Michelle graduated from the University of North Texas with a B.S. in Ecology. During her undergraduate degree, she worked as a research technician studying local Bobwhite Quail populations with the university team, UNT Quail. After graduating, Michelle worked as both a Trails and Wilderness Park Ranger and as an Interpretive Park Ranger for the Uinta Wasatch Cache National Forest in Northern Utah. Working for the U.S. Forest Service instilled in her a passion for natural resource management. During her free time, Michelle enjoys being outdoors hiking, camping, gardening, or just walking the dog. Currently, Michelle is an Environmental Reservist with FEMA, a Conservation Educator at The Dallas Zoo, and happily working toward earning a Masters of Natural Resources (MNR) degree.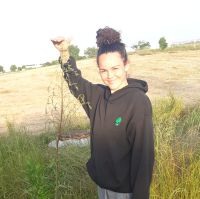 Morgan Golden-Ebanks, M.N.R. Student. Morgan is a recent graduate from the University of North Florida where she earned a B.S. (with a focus in Coastal Environmental Science). During her studies there, she participated in research examining human conflict with alligators in the Southeast and how increased temperature affected native plants in Florida. Morgan has participated in fieldwork on her home island of Grand Cayman with visiting researchers, the Department of Environment, and the National Trust. She has worked with blue iguanas, lizards, and sea turtles. Although she has a never ending love for biology, her masters study will focus on managing natural resources and understanding the human dimensions of environmental issues. She hopes to hold a position where she can participate in buying, preserving, and protecting ecologically valuable land in perpetuity. Outside of her school career, Morgan sees herself as an amateur gardener and herbalist, cat mom, yogi, and lover of all things wild!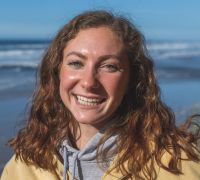 Maia Insinga, B.S. Hons Student. Maia is pursuing her B.S. Honors in Psychology, as well as minors in both Spanish and Marine Conservation and Management. For her honors thesis, Maia is researching public responses to sea star wasting disease and ocean acidification. The main question this research seeks to answer is what are public cognitions and emotions associated with sea star wasting disease and ocean acidification? At OSU, Maia has worked at Counseling and Psychological Services for three years. Also, she was one of the first interns in 2019 for the new Honors College Center for the Humanities Summer Internship where she researched cognitive behavioral therapy for students with seasonal depression. Maia also earned an internship as the Marine Studies Initiative Science Filmmaking Intern where she created a short film on Oregon surfing. Maia enjoys surfing, yoga, photography, drawing, and camping.
Graduated Students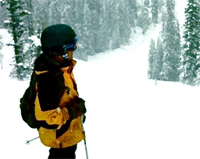 Joshua Petit, Ph.D.  Josh earned his B.A. at Xavier University and his Master of Natural Resources (M.N.R.) at Virginia Polytechnic Institute and State University where he examined the recovering long-spined sea urchin in tropical Panama. He has studied abroad and conducted research in Asia, Australia, Africa, South and Central America, and Mexico. While living in Portland, Josh was a research and development intern at the Oregon Museum of Science and Industry where he worked on an exhibit focusing on sustainability. He also worked with the Oregon Parks and Recreation Department as a recreation planning technician. Josh completed his Ph.D. in the Department of Forest Ecosystems and Society at OSU, and his professional research interests include conservation ecology, human dimensions of natural resources, outdoor recreation and tourism, and science communication. His Ph.D. research focused on public acceptance of using biotechnologies to address forest health threats such as chestnut blight. In his free time, Josh enjoys climbing, competitive disc golf, skiing, cooking, scuba diving, and playing his Martin guitar. Josh is currently teaching online classes for OSU and working for a large forest collaborative group.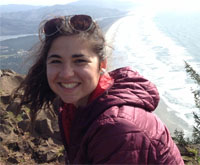 Jaclyn Rushing, M.S.. Jaclyn graduated with honors from the University of Oregon with a B.A. in Environmental Studies and Romance Languages. Her professional background focuses around environmental history research and outdoor education and interpretation. Her experiences range from au pairing in France, to researching environmental history of glaciers, to working in outdoor education and interpretation for the National Park Service, Oregon Parks and Recreation Department, Bend Park and Recreation District, and the University of Oregon's Environmental Leadership Program. Her love of connecting people to place through interpretation led her to complete an M.S. in the Forest Ecosystems and Society Department at OSU. Her professional and research interests include outdoor recreation and tourism, public outreach and outdoor education, collaborative management, multi-use, and science communication. Jaclyn's thesis research focused on constraints and place attachment associated with Portland Metro Parks, especially among traditionally underserved communities. Outside of school and work, Jaclyn enjoys running, skiing, hiking, and backpacking. Jacyln started working on her Ph.D. at North Carolina State University and has recently transferred to the University of Montana.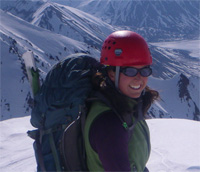 Jennifer Johnston, M.S.  Jennifer earned her B.S. in Environmental Science from the University of Michigan, and spent the following years working for various federal land management agencies, including the National Park Service. These experiences included, among other positions, monitoring harvests aboard commercial fishing vessels in the Bering Sea and working as a wilderness ranger in Alaska. Her professional interests in protected area management, natural resource conflict resolution, and stakeholder involvement inspired Jennifer to complete an M.S. in the Department of Forest Ecosystems and Society at OSU. Her research focused on resident perceptions of the concept of marine wilderness and how this is associated with the new marine reserve system in Oregon. Outside of academia, Jennifer enjoys backpacking, cooking, packrafting, and attempting to ski. Jennifer is currently working for the National Park Service in Denali National Park and Preserve, Alaska.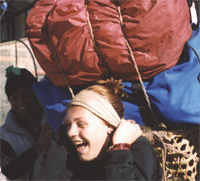 Elizabeth (Bess) Perry, M.S.  Bess received her B.S. in Natural Resources Ecology and Conservation Biology from the University of Idaho, and M.S. in the Department of Forest Ecosystems and Society at OSU where her research focused on public knowledge and attitudes regarding the newly created marine reserve system in Oregon. Her broad professional interests include conservation biology, science communications, and human dimensions of protected area management. Her experiences include working with Connecticut State Parks enhancing connections between urban families and their parks, and with the National Park Service in the Klamath Inventory and Monitoring Program developing and implementing long term monitoring plans. Outside of school and work, Bess is usually found running, cycling, or backpacking somewhere spectacular; improving her Nepali; creating henna designs; or doing something else equally artsy. Bess finished her PhD at the University of Vermont, then did a Post-Doc at Clemson University, and is currently an Assistant Professor at Michigan State University.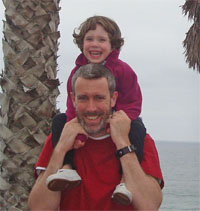 Wesley Mouw, M.S.  Wes earned his B.S. in Environmental Psychology from California State University – San Marcos where he focused on human connectedness to nature.  As a post-baccalaureate student at OSU, Wes spent two years taking courses in Natural Resources and Recreation Resource Management before completing his M.S. in the Department of Forest Ecosystems and Society.  His graduate research focused on how recreationists could experience sanctions and modify their attitudes and behaviors in response to crowding in state parks along the Oregon coast.  In his spare time, Wes likes to run, bike, and hike.  He also enjoys spending time with his wife and daughter. Wes is currently working as a senior research analyst for the State of Oregon.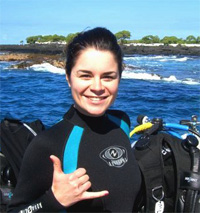 Lisa Prendergast Swanger, M.S.  Lisa earned her B.A in Sociology with a minor in Biology from Kutztown University of Pennsylvania. She completed her M.S. in Marine Resource Management at OSU where her research focused on developing a strategic conservation project for the Oregon Coast Aquarium that incorporated an ecotourism component and environmental education standards of the Association of Zoos and Aquariums (AZA).  Lisa has worked for several related organizations including the Adventure Aquarium in New Jersey, the Conserve Wildlife Foundation, and the New Jersey Division of Fish and Wildlife.  She was also Oregon's Regional Coordinator for the National Ocean Sciences Bowl under the Consortium for Ocean Leadership. In her free time, Lisa enjoys camping, horseback riding, and relaxing with a nice cup of tea. Lisa worked as Watershed Education Program Coordinator at Coastal Carolina University, and is currently the Outreach and Education Coordinator for the Delaware Center for the Inland Bays.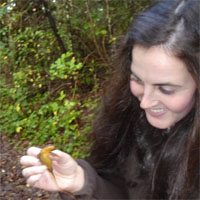 Emily Pomeranz, M.S.  Emily received her B.S. in Recreation Resource Management from the University of Wisconsin-Madison. She then earned her M.S. in the Department of Forest Ecosystems and Society at OSU where her thesis research explored the attitudes and perceptions of commercial guides and outfitters, government agency personnel, and local residents toward voluntary collaborative codes of conduct and standards for tourism management in the Tracy Arm-Fords Terror Wilderness in southeast Alaska. In her free time, Emily enjoys hiking, camping, flying kites, and exploring the Pacific Northwest. Emily finished her PhD at Cornell University and is now working for the State of Michigan Department of Natural Resources.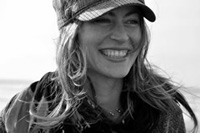 Robyn Ceurvorst, Ph.D.  Robyn earned a B.A. in Leisure, Youth, and Human Services, a certificate in Outdoor Recreation, and a minor in Business Administration from the University of Northern Iowa.  She then received her M.S. in Human Dimensions of Natural Resources from Colorado State University.  After that, she earned a Ph.D. in the Department of Forest Ecosystems and Society at OSU where she focused on applications of the concept of norms to social and facility indicators of coastal recreation and tourism in Hawaii.  During her free time, Robyn enjoys whitewater rafting, hiking, mountain biking, and rock climbing.  She has also worked in many locations across the country (e.g., Colorado, Utah, Arizona) and internationally (e.g., Morocco) as an adventure guide and trip leader focusing primarily on river based activities. Robyn has been an Assistant Professor at Minnesota State University.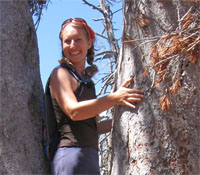 Kerry Grimm, Ph.D.  Kerry received her BA from Binghamton University in New York, majoring in both Environmental Studies: Ecosystems and Creative Writing, and her M.A. in Literature and Environment from the University of Nevada, Reno. She completed her Ph.D. in Environmental Sciences at OSU where her research interests focused on human-environment interactions, conservation, sustainable development, volunteer ecotourism, and resource use in rural South America (Ecuador). Working within a political ecology framework, she was especially interested in discourse and its material ramifications at different scales among multiple participants. In her spare time, Kerry can be found enjoying almost any activity outdoors, cooking elaborate meals, and spending time with her family. Kerry has been on the faculty at Northern Arizona University.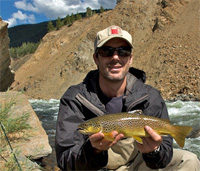 Christopher Little, M.S.  Chris earned a B.A. in Environmental Science and Anthropology from Saint Lawrence University in New York. Following this, he moved to California where he worked on several projects including forest management in Lake Tahoe and bald eagle restoration on the Northern Channel Islands. Seven years in California exposed Chris to collaborative partnerships with the National Park Service, California State Parks, the US Forest Service, The Nature Conservancy, private businesses, the University of California, and the Institute for Wildlife Studies. With a passion for recreation and conservation, Chris then completed a M.S. in the Department of Forest Ecosystems and Society at OSU focusing on the impacts of voluntary environmental programs on recreationist behavior at an alpine ski area (Mt. Bachelor). Chris enjoys spending time with his family, skiing, fly fishing, rock climbing, hiking, and photography with the passion that "You can discover more about a person in an hour of play than in a year of conversation" (Plato). Chris was a senior representative for The Nature Conservancy and is now working for The Conservation Fund in Alaska.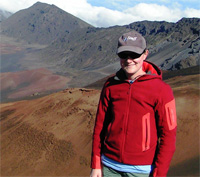 Caitlin Bell, M.S.  Caitlin earned a B.S. in Natural Resources from Cornell University in New York and then spent a year teaching marine science at the University of Georgia's Marine Extension Center and Aquarium in Savannah.  Caitlin then earned a M.S. in the Department of Forest Ecosystems and Society at OSU with both a minor and certificate in Marine Resource Management.  Her M.S. research focused on crowding, encounters, norms, and management at Molokini Marine Life Conservation District in Hawaii.  During her free time, she enjoys hiking, cycling, traveling, and camping. Caitlin worked at the consulting firm Ecology and Environment, Inc. in San Francisco, California.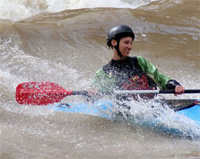 Sera Janson Zegre, M.S.  Sera received a B.S. in Environmental Studies (Natural Resource Management) from The George Washington University in Washington, D.C.  She then earned a M.S. in the Department of Forest Ecosystems and Society at OSU where her research focused on impacts of commercial guides and outfitters on public land in the Juneau, Alaska area.  After graduation, Sera was a project manager for the FOCUS West Virginia Brownfields Program, and both a project manager and social scientist with Downstream Strategies, an environmental consulting firm in West Virginia.   Sera is a self-proclaimed desert and river rat (often by whitewater kayak), and a transplanted westerner from Colorado who now calls Appalachia home. Sera has been a lecturer and research coordinator at West Virginia University.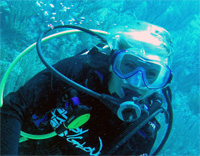 Emily Pickering, B.S. Hons. Emily completed her Honors B.S. degree in Biology with a Marine option at OSU. During her field research, she worked for the National Oceanic and Atmospheric Administration (NOAA) at the Pacific Islands Regional Office in Hawaii as part of a NOAA internship and the Ernest F. Hollings scholarship program. Her research involved synthesizing the social and economic literature on fisheries in the Pacific Islands region, and conducting a gap analysis and interviews with fisheries managers, scientists, and anglers about the importance of social and economic information in fisheries management in this region. After graduating, Emily worked for The Nature Conservancy in the Lake Tahoe area (California) and then for the University of North Carolina. Outside of academia, Emily enjoys scuba diving, horseback riding, dancing, snowboarding, and photography. Emily has been working with National Geographic Lindblad Expeditions.